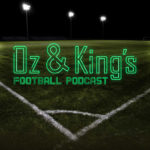 Welcome to the 2nd preseason episode of Oz and King's Football Podcast
Soccer is a sport that has an effect on many different people in different ways. On Oz and King, the perspectives of various people associated with the game: players, coaches, fans, commentators. A demographic that is yet to be tackled, however, is that of the soccer parents. They have often forgotten heroes in soccer, and just like in other stages of growth, they are crucial to a player's development. "There are times, particularly when we are young, that soccer parents do as much work as we do," said Kerry.
"They drive us to countless games of various distances, pay heaps of money to allow us to continue doing what we love, and come game time, they cheer us on with gusto. Being the mother or father of an athlete can be a journey itself. They tend to see things differently than we do. Even today, I still listen to the interesting thoughts my mother has on the game." Parents across the world go through different experiences to support their son or daughter. Just as youth soccer is different from one country to the next, parents support their children in varying ways. In Brazil, parents tend to support from afar, while in the United States, soccer mom (and dad), soccer parent are very involved, constantly motivating their kids.
"Growing up in Sweden," Oz said, "my dad watched a lot of my games. He is a clever and observant man, so I was pleased to sit down with him and have a real chat about supporting me and my brother over the years."
A mother and father always want the best for their kid, and Oz's father, Nurullah, is no different. Sometimes parenting can be stressful, other times it can fill them with pride. "As kids we take a lot for granted. It was actually rather enlightening to know how being a young footballer caused trouble or joy for my parents."
Facebook @ozandking                   Twitter @ozandking                     Instagram @ozandking
Episode 8: Interview with ex-US and Sweden National team Coach Pia Sundhage
Episode 14: Interview-Story behind Mario Balotelli "Why Always Me?" shirt
Episode 16: Women's Football – Guest Victoria Sandell Svensson
Related Episodes