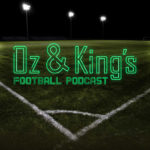 Football in Kenya  – Kenyan Football unveiledd Part 2
↑↑Listen to episode↑↑  Episodes also available on iTunes Player FM  Acast Tunein, Android apps Follow us on Twitter @ozandking  Facebook @ozandking Instagram @ozandking Subscribe and leave a comment!!
Previously, Oz and King's Football Podcast brought you the first full episode of the special,  Kenyan Football Unveiled. Mini podcast documentary series to discover football in Kenya. In that episode, Kerry and Oz touched down in Nairobi and started their journey on the training field of Wazito FC. There, they learned of the mentality of a small, newly-promoted club of the Kenyan Premier League, and they also got an initial sense of the life of a Kenyan footballer from the perspective of Wazito player, Eric Cotin. Afterwards, former national team player Maurice Chikanda talked to boys and told them of what seems to be the biggest problem that football in Kenyan has is corruption.
In Part 2, the guys went and spoke with Khamasi Richard Madegwa with one of the country's major venues, the Kasarani National Stadium, as the backdrop. Khamasi is the director of coaching at KYSA, a youth soccer organization that provides kids with organized and quality coaching, giving them a chance to prepare for higher levels of soccer.
"We went and spoke to Khamasi with the hope of understanding youth soccer in the country," said Kerry. "Established soccer countries around the world have a clear youth setup that provides every youngster professional coaching and path to professional, first-team football. I think Kenya lacks that organization. There are a lot of young players that fall through the cracks and go unnoticed by KPL clubs or the federation. And those that do get picked up, sometimes have to deal with corruption and other problems."
Oz went on to say, "Khamasi went into great detail about the corruption of Kenyan football: the underhanded paying of coaches, the reluctance of coaches and referees to join the federation due to its instability, and more. I believe it is unfortunate that there are people in football that are willing to exploit young children's future for more money. Khamasi made it clear to us that there are so many really talented soccer players in the country, but they don't get the help that they need."
With a lack of organization on the youth level, academies like KYSA are all the more important. And with honest men like Khamasi at the helm, hopefully some of Nairobi's finest can get the platform needed to jump to the professional ranks.
Related Episodes