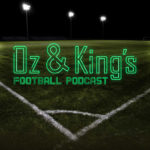 Football world is always changing
Welcome to the 1st episode of Season 3 of the Oz and King's Football Podcast
Change is a-coming. In many respects, change has already arrived. Season 3 of the Oz and King's Football Podcast is officially here, and while there will be plenty of similarities to past seasons, there will be some differences as well, mirroring the football world. Many would argue that we aren't experiencing the same type of football of last year: arguably less competitive competition and players being sold for ungodly amounts of money are a couple of examples that point to the fact we are in a new soccer landscape.
"Not too long ago, Zinedine Zidane went from Juventus to Real Madrid for seventy-seven and a half million euros: a world record," Oz noted. "Now, we regularly see people go for seventy million and we've had multiple transfers of one-hundred million or more."
Many fans and pundits believe the money being put into the game is ridiculously high, but they reflect the changing of the times.
Oz went on to say, "Around the time of Zidane's transfer, you had Newcastle and Leeds competing for Premier League and Champions League glory, now they are constantly fighting relegation or promotion, and they don't have the financial backing to compete."
"It's a case of the rich getting richer and the poor getting poorer," Kerry added. "The most likely way for an outsider to challenge the traditional hierarchy is for an owner to come in with billions of dollars and bring the club to a new level, like Manchester City.
"For me, there are pros and cons to the current state of football. A pro, for example, would be Man City consistently competing with the top Premier League clubs makes the league more competitive and interesting. They add spice to the Champions League as well, similar to PSG.
"But, I believe that some competitions have lost their excitement. The likes of PSG and Juventus have dominated their leagues for the last several years, and while they continue to flourish, their opponents find money hard to come by and struggle."
But change isn't something to be afraid of. The enthusiasm of the game is as strong as ever, and Oz and King are certainly changing for the better, with an international trip to Africa and many more fun things to come.
Music:  [No Copyright Music] Alive – Ikson  https://www.youtube.com/watch?v=OYef8hEHn64
Episode 16: Women's Football – Guest Victoria Sandell Svensson
Episode 7: Statement – Interview with AC Milan legend Gunnar Nordahl's son Thomas
Related Episodes