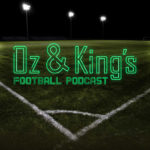 Women's Football – Guest Victoria Sandell Svensson
Follow us on Twitter @ozandking  Facebook @ozandking Instagram @ozandking
Welcome to the 16th episode of OzKoç and King Soccer Podcast Show.
Unfortunately, not all organizations do a good enough job of keeping their players happy. Not all players feel they are being treated properly. "Now its often not possible to please everyone," Kerry noted, "but no one should be treated unfairly.  Some aspects of soccer still leave much to be desired. The women's football game, for instance, often gets the short end of the stick because the men are seen as the big money bringers to most clubs and organizations."
Indeed, debates frequently flare up when the topic of discrimination in soccer comes up and rarely is women's football discussed even if it is it tends to be ridiculed.  "A lot of female professional footballers feel they get unjust wages, or inadequate facilities, or no share of the spotlight. Its hard for them to feel comfortable or at home with the club that is supposedly backing them." The debate will rage on, but one thing we should all agree to have is the inclusion and good treatment for all players. A team and friendship is something to truly be thankful for.
Thanksgiving.
A time of togetherness, laughter and a time when one can feel relaxed and at home. That sense of belonging is important for anyone at anytime. Whether you're a project manager at an architectural firm, or a footballer trying to break into a new team, feeling included goes a long way when it comes to feeling comfortable. "When someone is about to sign for a club, a lot of deals and accommodations must be made before pen is put to paper," Oz said. "Of course, they have to agree on wages, but a club will also do its best to come up with methods to make the player feel at home, especially if the country is foreign to the newcomer.
They'll be paired up with a suitable teammate to ease them in; they could be given a language tutor; they'll be given whatever is necessary in order to reduce distractions and keep the player performing at a high level."
Victoria Sandell Svensson
Episode 14: Interview-Story behind Mario Balotelli "Why Always Me?" shirt
https://ozandking.com/episodes/episode-8-interview-with-ex-us-and-sweden-national-team-coach-pia-sundhage/
Related Episodes