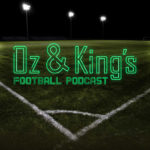 Mario Balotelli's "Why Always Me?" story
↑↑Listen to episode↑↑ Episodes are available on iTunes , Tunein, Player FM, Acast
Welcome to the 14th episode of OzKoç and King Soccer Podcast Show
Mario Balotelli has controversial stories on and off the field are well recorded, however, a genius that doesn't know how to use its tools Mario Balotelli famous "Why Always Me?" shirt is a moment that no one will forget.  Mario Balotelli scored against Manchester United and showed the world what he felt. During Mario Balotelli's goal celebration he showed a text written on his shirt  "Why Always Me?". Oz and Kerry approached Manchester City Kit Man for 17 years, Les Chapman, to really understand the story behind this act.  Mario Balotelli's life and career are unique and he is a special player. His time at City was up and down but he also had only one assist, the most important one. The pass to Sergio Kun Aguero on the last minute goal against Queens Park Rangers to secure the league title.
The feeling of qualifying for the World Cup is one of pure joy. Its one of excitement, relief, even anxiety. Every game of soccer is like this, honestly. They're full of various emotions: some good, some bad. Even though they are so familiar to us, we always go back for more. No matter how pleasant or unpleasant.
"These emotions are a big part of what draws us to the game," Kerry said. "We experience them every time we play or watch a game and we never get tired of them." He continued, "It can be hard to imagine why we are so drawn to them, or at least, to some of them. Even that feeling of nervousness is one we can't really get enough of when you think about it. But, ultimately, I believe that experiencing a vast array of emotions across ninety minutes can be healthy, in a way. It proves you're alive and kicking. Also, I think that the feeling you get when nerves turn into joy is like no other. Like I often say, the bad stuff helps us appreciate the good."
Usually, when we go into a game, we are fearful of losing. We can also be fearful of playing poorly. But one fear that can be tricky to conquer is the fear of getting injured, and for good reason. The immediate and obvious worry with injuries is that they hurt. The next worry that comes to mind is, "Will this prevent me from playing at all?" Countless players have had major setbacks in their careers because of injury. A player missing any amount of time on the field can trouble both the player's development and the team itself. Oz has had his fair share of injuries over the years and he knows the struggle they cause.
"One thing that anyone that has ever gone through the recovery process will tell you is that the first game back is the most important," he said. "After suffering any sort of significant injury, it can be tough getting back that confidence that there was pre-injury. You over-think the next pass or shot that you take because you're afraid of injuring yourself even further. It's tough to get over this initial hump because your mind makes it seem like the injury is worse than it really is.
"That's why some players have their entire game changed after sustaining big injuries, Oz continued. "They hold back because they're too nervous. But after that first shot goes flying into the back of the net, then the shackles are off, the relief and confidence kick in, and one of the chief reasons for why we love football becomes evident."
It can be a roller-coaster of a ride.
Follow us on Instagram, Twitter, and Facebook
Subscribe to our show and send us an email to ozkocandking@gmail.com LET'S CONNECT
Interview with Les Chapman – Manchester City Kit Man 1997-2014, talking about the story behind Mario Balotelli Why Always Me? t-shirt.
Song: Fredji – Happy Life Music provided by Vlog No Copyright Music. Video Link: https://youtu.be/KzQiRABVARk
Preseason Episode 3: Studio life with Kevin Egan, Bein Sports
Preseason Episode 5: Count your blessings – Interview with Anders Andersson
Episode 8: Interview with ex-US and Sweden National team Coach Pia Sundhage
Related Episodes