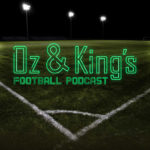 Welcome to the 3rd episode of Ozkoç and King Soccer Podcast Show
Any truly competitive football club has one goal on the agenda: to constantly get better and be the best they can be. They won't accept mediocrity, and even if they have an average season or game, they'll do their best to make sure it doesn't happen again. Because as soon as mediocrity becomes a habit, they can no longer be considered competitive.
"It's obviously not easy becoming the best team around. Whether it's in any particular city, or country, or continent, you're going to have other clubs with the same aspirations as you," Kerry said, "and, in most people's eyes, only one team can be the best." He continued, "To be fair, it's not just the top teams in any
given league that are the competitive or ambitious ones. Real Madrid qualifying for the Champions League isn't noteworthy, it's expected. For Getafe, a club that usually spends an entire La Liga season fighting to avoid relegation, getting to the Champions League is extraordinary. Just finishing in the top ten is a good season. All in all, clubs of all shapes and sizes should, and do, have the drive to get better year after year." It's important to note that in order to get better, risks must often be made. Teams will experience the occasional stumble in their quest to be the best they can be. But even the odd mistake here and there is better than a team stagnating. With everyone else getting better, it's easy to get left behind.
But this doesn't only apply to teams. Of course, the top players and coaches have the same agenda: be the best. Those currently at the top of the game (Antoine Griezmann, Cristiano Ronaldo, Carlo Ancelotti, Pep Guardiola, etc.) all got there by accepting nothing less than 100% effort from themselves and their teammates all of the time.
"These guys have an image to uphold," said Oz. "Take José Mourinho, for example. He has been one of the most scrutinized managers in the world for more than a decade due to his character and his success. After having one dreadful year at Chelsea, he comes to a Manchester United club that is trying to get back to the heights they once had. He immediately brought in superstar players and, after a year of settling in, he is currently leading them to a Premier League title once again.
"He is an inspiration to me, and I try to model my coaching style after him and his high standards." For people like Mourinho or Jürgen Klopp, dropping off the pace is unthinkable, let alone unacceptable. Their ambitions always remain high and their competitive nature never dies.
Related Episodes