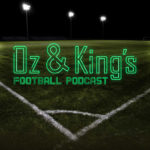 Follow us on Twitter @ozkocandking  Facebook @ozkocandking Instagram @ozkocandking
Welcome to the 10th episode of OzKoç and King Soccer Podcast Show
"The past couple of weeks must have felt like the worst ever for many people, while for others, it must have felt like Christmas had come early,"
Kerry said. For both he and Oz, the former certainly rang true. "I love watching the US play. I love watching them go through qualification or friendlies. And then seeing my country represented amongst all of those other nations at tournaments like the World Cup, I get the feeling that we belong." Kerry went on to say, "However, as exciting as watching the United States participate in World Cup Qualifying is, the despair of watching them fail is just as big, if not bigger. Soccer people in this country are realizing that there
"I love watching the US play. I love watching them go through qualification or friendlies. And then seeing my country represented amongst all of those other nations at tournaments like the World Cup, I get the feeling that we belong." Kerry went on to say, "However, as exciting as watching the United States participate in World Cup Qualifying is, the despair of watching them fail is just as big, if not bigger. Soccer people in this country are realizing that there need to be wholesale changes to the way the sport is treated here."
The US failed to qualify for the World Cup for the first time since 1986. For a country with a rapidly growing soccer culture, the inability to get out of a region that they've traditionally dominated is unthinkable, and some, such as Kerry is still having difficulties coping. Oz hails from two football-mad countries. Turkey, in particular,  is known worldwide for its passionate fans and booming atmospheres. Football means everything to Turkey and there can be serious consequences for qualification failure. "
"It's unacceptable," Oz said, "Especially if a failure was achieved in an embarrassing manner. Losing by three goals at home to Iceland? We can't allow anything like that to happen again." But as the saying goes, "one man's loss is another man's gain."While Americans and Turks are going through misery, people from other nations are experiencing a euphoria they've never felt before.
"I would recommend to anyone the documentary 'We Must Go' by Dave LaMattina and Chad Walker," Oz continued. "After watching and coming to realize the struggle the Egyptian people have been through over the years, seeing them qualify for their first World Cup since 1990 is all the more heartwarming. As disappointing as the US and Turkey's failures are, seeing Panama qualify for the first time ever is amazing."
With stories like Egypt's and Panama's, its impossible to wallow in misery for too long.
Song credit: Voyage by LEMMiNO (Royalty Free Music)
Related Episodes