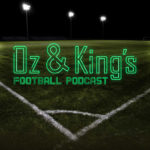 Welcome to the 2nd episode of OzKoç and King Soccer Podcast Show
Now that we're in the early stages of the season we can evaluate the early season plans for each team. All of the summer preparations are finished and the pieces for a new beginning, a new identity, are in place. Now that everything is set, you would expect the start of the season to go smoothly. You'd expect everything to go according to plan. The thing about sport is that for many teams this crucial early season form doesn't go as expected.
"Injuries, lack of form, and other factors can derail a team's plans and throw everything into chaos right from the beginning," Oz explained. "And then, when at one point things were looking up for the start of the new season, everything is all of the sudden under pressure and nerve-wrecking." Oz went on to say, "It seems unfair to me that put so much pressure on a team or a player right from the start. Sometimes it is deserved, but no one should panic so early when there is nothing to panic about." Fans are perhaps more guilty of this than anyone else. Particularly if you're a fan of teams like AC Milan, Arsenal, or Borussia Dortmund, clubs that have large pedigrees and promise so much year after year only to fall short of their ultimate goal. When signs of familiar disappointment appear, fans instantly get antsy and harsh with their criticism. Typically, players are aware of the pressure fans, pundits, and coaches naturally put on them throughout
Typically, players are aware of the pressure fans, pundits, and coaches naturally put on them throughout the season. When Neymar signed for PSG, he knew about the monumental weight that would be put on his shoulders. Some players have their own way of getting used to that pressure. Some players thrive under it. But it's not uncommon for others to wilt under the pressure and have their performances negatively affected.
"A lot of things suddenly don't go your way," Kerry said. "And we've all gone through these occasional spells. Passing or controlling the ball, stuff that should come naturally to any soccer player, suddenly become difficult and are two of the most nervous tasks to do in the world." On a professional level, the pressure players have to perform can be unbearable at times, even dangerous. The amount of fans and analysts that demand their expectations be met is intimidating, especially when they start to get abusive. "It may seem like the whole world is against you," Kerry continued, "so it's all the more important for you to shut out the negative noise and focus on what's important: yourself."
In the end, the criticism is nothing more than noise, especially when it is still so early in the season. Because the only person that knows the whole truth about any given player is that player themselves, and they're the only one that can change criticism to praise.
Related Episodes