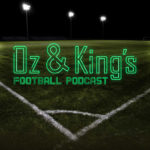 Welcome to the 6th episode of OzKoç and King Soccer Podcast Show
Every club has players with big egos, especially the top clubs. Goalscorers are said to have the biggest egos of them all, which perhaps is necessary to score a lot of goals. Massaging all of these egos and keeping everyone happy while also doing what's best for the team can be a great challenge. Everyone on a team is a human being with different personalities and they're not always going to get along.
"It is well documented that former Manchester United strikers Teddy Sheringham and Andy Cole had a great dislike for each other. But even so, they were able to work together on the pitch," remembers Oz. Much of the credit goes to manager Sir Alex Ferguson who was able to keep the two in check, but sometimes compromises aren't made and players' performances deteriorate. "There was a time when I was younger that I wish our coach had managed a situation between me and another player differently. I feel like had the coach gone a different direction, our performances would have been better.
"Players have a lot of power nowadays, but I feel it is still the manager's responsibility to keep things running smoothly. A team without friction has an advantage on others. When everyone is on the same page, there is little room for doubt. To me, that means more room for success."
–—–
Many leagues around the world are associated with a specific characteristic or a certain style of play. The characteristics aren't always explicit or obvious, but they define many teams in their respective leagues and the way football is approached in that country. Players often exhibit these same traits. Roy Keane was perfect for the combative, physical nature of the Premier League, Xavi's style fit the technical, slow-pace of La Liga, Antonio Conte suited the tactical, pragmatic nature of Serie A. When clubs from these leagues faced each other in European competition, it wasn't just a conflict between the players: it was a conflict between ideologies.
"You don't really see the clubs represented in that way anymore. At least not in England," Kerry noted. "You don't see the English teams littered with English guys that are big and strong and utilize a lot of direct, long passes. You don't see many guys that grew up with that mindset. I remember a time when Theo Walcott was, like, the only English guy on Arsenal." Move to other places in Europe and you'll see the importance of local talent on big teams varies. Juventus continues to have a core group of Italians at its center. AC Milan, after going several struggling years, seems to be rejuvenated with a nice mix of foreign stars and local talent. On the other hand, Napoli is one of the most electric teams in Europe and they really only rely on one local superstar, Lorenzo Insigne.
Over in France, Paris Saint-Germain has a few promising French kids in their ranks, particularly Adrien Rabiot, but they have relied on a bevy of South American stars for the past few years. "I do enjoy seeing people like Wenger or Guardiola come into England and bring a new element to the Premier League," Kerry continued. "Players such as Cristiano Ronaldo and Fabregas have done the same. But I do miss the clash of cultures you'd see whenever Manchester United played Juventus, for example. It's not quite the same anymore. And the neglecting of local players has hurt national teams in the past, so it's something to be careful of."
Related Episodes