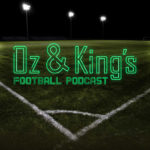 Welcome to the 2nd Preseason episode 1 – Kenyan Football Unveiled
Soccer is unique around the world. There are different facets of the game to experience depending on where you are. The culture in Japan isn't the same as it is in France. The hurdles and pitfalls in England aren't the same in the United States. You wouldn't use the same tools in Egypt that you'd use in Chile. The cultural and economic makeup of each country helps to shape its football.
For this reason, the path to becoming a professional differs between two people across the world. To push the limit and challenge themselves Oz and Kerry decided to go to Kenya and execute a football documentary in podcast form. Kenyan Football Unveiled.
Kenyan Football
"There are many places around the globe each with many stories to tell," Oz said. "We'd like to go to Kenya and learn more about its soccer story. It's a country rich in many things, including top-class track and field athletes, but there is still a lot of development needed on the football side of things." Kenya is steeped in history. Like many African nations, song and dance is a part of the lifeblood of the people, and football matches are festive and colorful occasions. There are also plenty of changes incoming for Kenyan football, with its overall system going in a new direction.
"I'm curious to see what's coming in the future for Kenyan football, as it is bound to be exciting stuff, but I also want to see how the traditional culture of the country incorporates itself into the sport."
"There are more places to come, according to the Oz and King itinerary," said Kerry. "More places with stories to unravel. Soccer-mad countries like Mexico and Brazil probably have a million tales to be told, and these are among the places that would be a dream to visit. But, lesser known countries such as Trinidad deserve to be in the spotlight as well."
Football is so impactful around the world that it doesn't really matter where you go. You'll always get that special sense of intrigue regardless of whose story is being told.
↑↑Listen to episode↑↑  Episodes also available on iTunes Player FM  Acast Tunein, Android apps Follow us on Twitter @ozkocandking  Facebook @ozkocandking Instagram @ozkocandking
Related Episodes