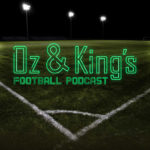 Follow us on Twitter @ozkocandking  Facebook @ozkocandking Instagram @ozkocandking
Welcome to the 2nd Preseason episode of Ozkoç and King Soccer Podcast Show
"You see so many different people. Some wear jerseys of the team, some have tattoos of the team's badge, and some bring flags, but they all are there to cheer for the club and enjoy themselves." This is what Kerry had to say after the most recent Atlanta United game. Viewing a game among all of the supporter's groups is a unique experience and one that Kerry won't forget anytime soon. "It was special, that's for sure," he said, "I've never been inside the supporter's section at any game before, though I've been next to one before, and I found it was a lot more fun than I anticipated."
He went on to say, "To be honest, whenever I thought of watching a game in that section, I would always be a little intimidated by the commitment of constantly singing and jumping. But once I got there, I found I could actually fully relax and let loose." Meanwhile, Oz was also watching the game at a different place than usual.
"I sat in seats that would equate to the club seats at the Mercedes-Benz Stadium when it opens up," he said. "They were pretty high-end tickets, therefore most of the people sitting around me were quite well off. A lot of them weren't quite as vocal as others in the stadium, but they were enjoying themselves just as much as anyone else.
"What's great about Atlanta United," Oz continued, "is that the club connects with so many people and it also raises awareness and knowledge of the sport. The U.S. as a whole has taken to the game so much. It's much more open to various soccer news outlets and media platforms. It's great to have access to magazines like 8by8, a magazine that challenges people's minds and covers all aspects of soccer." A magazine headquartered in New York City, Eight by Eight is bold and not afraid to break norms. The unique art design combined with the strong writing style makes for eye-popping, intriguing content. "The articles are interesting and varied, and the topics range from world-beaters like Cristiano Ronaldo to players that never played a minute with their team."
One of the biggest lessons we can take from 8by8 and Atlanta United games, and indeed any game around the world is that there are so many facets to the sport and there is no wrong way to live it. It doesn't matter if you get your information from newspapers, magazines, attending a match live or by listening to a podcast, we all try to show and present you, this beautiful sport called Football/Soccer.
Related Episodes