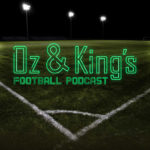 ↑↑Listen to episode↑↑
Episodes also available on iTunes Player FM  Acast Tunein, Android apps
Follow us on Twitter @ozkocandking  Facebook @ozkocandking Instagram @ozkocandking
Live Report – New York City
Welcome to the 20th episode of the Ozkoç and King Soccer Podcast Show
New York City is a vibrant metropolis with much to offer. There are a plethora of high end shops all along Broadway and SOHO. There are the famous sights to see such as the Brooklyn Bridge, Empire State Building, and the Statue of Liberty. And there is also a multitude of different people, from Chinatown and Little Italy in Manhattan to the Jewish community in Brooklyn. All of this gives New York an image to uphold; an image of diversity and innovation. Soccer clubs and fans from around the world both take advantage of and contribute to this diversity in the form of camps, high-profile matches, and watch-parties. New York City's soccer scene is also very rich and has a diverse culture.
"That's why it is not so unusual for fans of any particular club to walk around the city for a day and be greeted by fellow fans of the same club," Oz said. "It could be a fan of AC Milan, Liverpool, Chelsea, Dortmund… Whoever, really. The soccer landscape represents the diversity of the city." But of course, New York City isn't just a city of foreign teams: it is also home to two very different but very ambitious MLS clubs. New York City FC are relatively new, they have had plenty of star power in their short existence, they are backed by Manchester City, and they play in the iconic Yankee Stadium. NYCFC aims to be the best of the best. But they have competition in the form of the New York Red Bulls, who are established with history and tradition, own a beautiful soccer-specific stadium, and have recently come across silverware of their own. Kerry was born in New York and has closely followed the soccer scene in the city even while living in Atlanta.
"I mean, in a city with around twenty million people, it's not unusual for many of them to be soccer fans," he said. "And in a place that demands success of the highest order from all of its sports teams, the Red Bulls and NYCFC have a lot of pressure, but they're making strides. Even the second-division Cosmos have the ambition of reliving the glory days of the 1970's, despite the odds being against them."
New York is a city that inspires many and provides abundant opportunities. From a soccer standpoint, it can be seen as a mecca of sorts, rich with, multiple cultures that all add to the game. There is too much on offer in New York for it not to be taken advantage of.
Preseason Episode 5: Count your blessings – Interview with Anders Andersson
Episode 14: Interview-Story behind Mario Balotelli "Why Always Me?" shirt
Episode 8: Interview with ex-US and Sweden National team Coach Pia Sundhage
Related Episodes