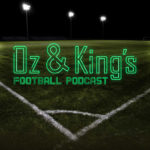 Follow us on Twitter @ozkocandking  Facebook @ozkocandking Instagram @ozkocandking
Welcome to the 8th episode of the Ozkoç and King Soccer Podcast Show
There's no feeling like it. There's no way to fully describe it. The anticipation is almost too much to bear as you walk up to a booming stadium moments before kickoff. You hear it before you see it; the announcer speaking over the intercom, the buzz of the crowd punctuated by periodic cheers. Then you see the throngs of people waiting to get in from the outside. Hundreds to thousands of other fans that feel the same way as you. Kerry recalled that sensation.
"It was something special, alright. Approaching the stadium was almost overwhelming. Some of those people could have been waiting for that day to arrive for a year. Others, like myself, could have been waiting ten to twenty years. But everyone was equally excited to finally be able to see our hometown team play."
As the game plays, the constant chanting from the supporter's section can be heard, as can the comments and exclamations of those around you.
"Everyone was standing for the entire game," Oz remarked. "Everyone was participating. They were playing their part. We all cheered and booed in unison and I know the players were feeding off of it. The power of the supporters in the stands shouldn't be underestimated."
The influence of fans goes a long way in the running of any club around the world. And while they may not hold all of the cards, they can't be ignored or isolated, for that could signal a downturn in a club's fortunes. This includes the apparent unsung heroes of an organization: the ground staff, the head of public relations, the marketing team. They can be just as much of a fan as anyone, and their voices deserve to be heard as well. Oz had one more thing to say regarding that special night:
"Everyone there was a part of history that night, and we're ready for more, Atlanta is ready for more."
Related Episodes