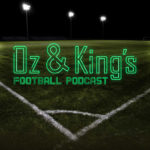 ↑↑Listen to episode ↑↑
Welcome to the 9th episode of OzKoç and King Soccer Podcast Show
Sometimes, when major events in soccer happen, the stranger things of the game come to light. Sometimes they're considered bloopers, sometimes they're surreal, but they often show how the sport is affected by the "outside world." The recent match between Barcelona and Las Palmas is proof of this.
"Every now and then, teams play games in empty stadiums," Kerry said. "Often its punishment due to crowd trouble. Either way, it's strange to see completely empty stands during a soccer game." When Barcelona chose to play behind closed doors, it was in response to the civil unrest going on between Catalans and the Spanish Government. "Its a club that has always acted with the highest conduct, and its fans are classy and supportive. I would never have thought that I'd see them play under those conditions." But even under abnormal circumstances, new opportunities arise. "Many of the players on both teams had supposedly seen it and done it all," Kerry continued, "This was a new experience for them. They could hear everything that was being said. They could think about the game differently.
" Football matches often become emotional and heated affairs. Players, managers, fans can make some odd decisions in the heat of the moment. The stranger things of the game can be quite comical. By the mid- 2000's, Arsenal and Manchester United were the two most dominant teams in England. Matches between the two were often title-deciders. After United ended the Gunners 49 game unbeaten streak in 2004, you can understand that tempers flared from both sides.
"I don't want to give too much away, but more than just expletives and fists were flown that day," Oz said with a smile." With all of the confusion, some mysteries surrounding that day went unsolved. Some things were never clarified. But one major event has recently come to light, and its both extraordinary and hilarious. I must say, I haven't heard anything quite like it." We often say that soccer never ceases to surprise us: no one would expect Barcelona to play behind closed doors, and no one could have anticipated the scenes between United and Arsenal to play out the way they did that memorable day in 2004. But now that they've happened once, we can never rule out the possibility of something similar happening again.
Related Episodes