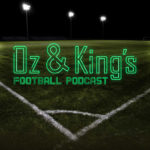 Welcome to the 7th episode of the Ozkoç and King Soccer Podcast Show
Nobody likes to lose. Losing is unpleasant and painful. It doesn't matter how old you are, the feeling of losing is a feeling you don't want to experience. But unfortunately, the losses are what often stick with us the most, especially if they come off the back of a big game. There are countless images of professional players at the top of their game with tears streaming down their faces in the wake of a semi-final defeat or a final heartbreak. The scenes of Cristiano Ronaldo after the Euro 2004 final are iconic or, more recently, Fernando Torres following the 2016 Champions League final. The experts at OzKoc and King have experienced defeats such as this just like anyone else.
"There are an array of feelings that come pouring out of you during these moments," says Kerry. "You feel upset and confused when you give your all in a game and still come up with nothing. You feel disappointment with yourself for letting your teammates down. You feel anger at your opponents for taking away from you your deserved glory."But defeats aren't the end of the world. In fact, they can signal the start of a new, successful era in a player's career.
"Big defeats can turn someone into a new being," Oz chimes in. "A beast or a monster that wills themselves and their team to success. After tasting sadness for the first time, they learn how to avoid it. They are newly motivated and develop a drive for success. This is how the best in the world acquire trophy after trophy throughout their career."
So losing isn't all bad. Losses may form the basis for our victories. You could be ten years-old or twenty-five and you'd feel the same way after a failure. But don't worry. Because that monster may be growing inside you, and it will ultimately lead you toward victory.
Related Episodes