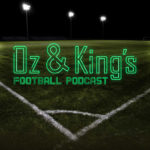 Welcome to the 4th episode of the Ozkoç and King Soccer Podcast Show
You're cheering, you're laughing, and you're excited at what's unfolding before you. You're on top of the world and no one can bring you down. You're team is about to win the World Cup, or the Champions League, or the World Series, or the Super Bowl and achieve ultimate glory. But then, an hour later, or even minutes or seconds later, that excitement is gone. Ripped away from you faster than you can believe, and sometimes in the cruelest way imaginable. You're inconsolable and go from being on top of the world to the bottom of a well.
This drastic change of emotions is what fans of AC Milan experienced after losing to Liverpool in 2005. Its what Bayern Munich fans felt after losing to Manchester United in 1999. Some would say that being on the wrong end of an epic comeback is surely the worst way to lose a game.
"I've definitely been in games where we were supposedly destined to win only to throw it all away at the end," Kerry remarked. "Possibly the worst thing about it is being labeled soft or a choker.
But it fires you up and makes you want to get back out there and experience the flip side of things."
Indeed these losses tend to stick with you for a long time. But, just as the defeats go down in history as legendary, naturally the miraculous comebacks do as well. On the positive side of things, the euphoria of watching your team turn a 0-3 deficit into a win is enough to keep you in a good mood for a week. Oz certainly knows a thing or two about that euphoria.
"Sometimes the emotion is too much," he chuckled. "You remember exactly what you were doing at the time and you realize that the team you support has just captured the imagination of millions watching around the world. Before you know it, the tears start falling."
Even when the result seems like a sure thing, these unexpected turn of events are why we are so invested in the game. They're exciting and they remind us to keep hope even in the most dire situations.
Related Episodes