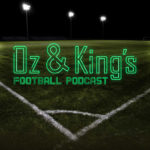 Follow us on Twitter @ozkocandking  Facebook @ozkocandking Instagram @ozkocandking
Welcome to the 1st episode of Ozkoç & King Soccer Podcast Show.
This is where it starts. The first words, meanings and questions between the duo Oz and Kerry. With an interaction and connection that is impossible to ignore, you will come to realize how much they know about soccer. The pressure and anticipation that comes with making the very first episode is never easy to cope with. People ask about it and want to know more. They want to know, "What do you mean by Soccer Podcast Show?"
When Oz was asked about the first episode he said, "It will be an episode that sets the bar high," and followed up by saying, "We are introducing the concept of what we want to do," and smiled.
The website has been in the making for a couple of weeks now and on it's launch Kerry said that "It feels great that sports and soccer fans will now have access to the podcast and listen to it. We are hoping that people will like it and enjoy listening to the show wherever they are."
Both Oz and Kerry are feeling good now that the production of the first episode is done and over. "We are very excited about doing this together, and to be here now feels as if something beautiful just started," says Kerry.
It is very clear that the first episode is something unreal that was made real. But what could that mean? What happened?
When I asked Oz and Kerry if they could tell me some small hint about the episode, Oz winked and said,
"Why don't you listen to it for yourself."
Welcome to OzKoc & King Soccer Podcast show.
Related Episodes