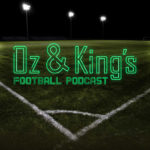 Welcome to the 19th episode of the Ozkoç and King Soccer Podcast Show
Now they can relax. Now they can enjoy themselves. After they raise that trophy and soak in the adoration of the fans, they realize that they have completed their task for the year. After a long and arduous season, each team member can reflect on the highs and lows of the campaign. It is unlikely that the season was perfect, and there were likely some regretful moments, but Kerry explains why looking back on even the bad times can be enjoyable.
"It's good to take a look at the whole picture, the good times and bad times together," he said. "You can take experience from every moment. Also, the bad times just make the good times so much sweeter." But, this is just one season done. For most players, there are many more years of playing to come and hopefully more successes. But what about those that have just completed their final ever game and added to their numerous trophies? What kind of people are they like, and how did they go about their business in order to be so successful?
"I think consistency is the key," says Oz. "You have to be focused and disciplined, and once you've found that recipe for success then the championships may come pouring in." He went on to say, "When legends like Steven Gerrard and Carles Puyol retired they weren't just looking back at one season of fondness. They look back at a glittering career of more than a decade and all the highs and lows that come with such longevity."
"It may be sad when role models like these step away from the game," Kerry added, "but it's pleasing to know that they've inspired countless youngsters to follow in their footsteps." It's important to not get discouraged by any setbacks but to instead take them in stride with the positives. This is how legends are made.
Related Episodes