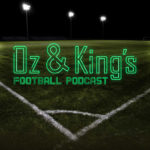 Welcome to the 13th episode of the Ozkoç and King Soccer Podcast Show
No matter where you live in the world, no matter what you call the sport, football, or soccer, brings excitement and joy. It is seen as a platform with which someone can express themselves. It is seen as a competition that epitomizes the spirit of sport. It is also seen as an escape from the struggles and the mundane of everyday life. Unfortunately, there is a greater need to escape when there is constant news of strife and conflict. Whether in Sweden or Syria, everyone could do with the joy that soccer brings.
"Luckily, there are ways to cope with such tragic news," Kerry says. "I believe the soccer world is one of the best communities when it comes to supporting for those in need. There's always someone that can lend a hand to help up another. Someone that will pray for the safety of others. We particularly see it when teams acknowledge a moment of silence before a game, or walk out wearing black armbands in respect of victims around the world.
"We attend soccer games to forget about outside problems, so it's even sadder when there's an accident or an attack at a game itself," says Oz. "It sickens me that anyone would think to use a place of fun as a place of hate. But even so, the soccer family gets even more united during such divisive times. And despite occasions of mass confusion, the support we give one another goes a long way. Just ask Liverpool after Hillsborough or Chapacoense after last year."
While soccer should be kept separate from things like war and politics, it can be a key tool for overcoming such difficulties. It is important to not take anything for granted, especially not a tight- knit community like soccer.
Related Episodes