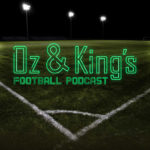 Welcome to the 10th episode of the Ozkoç and King Soccer Podcast Show
What is the most dominating figure that the 1995 movie Braveheart depicts? A leader. Someone who is charismatic, strong, and influential. In this case, that leader is William Wallace, a warrior during the First War of Scottish Independence. Soccer teams don't literally go to war with each other, but they are just as reliant on an inspiring captain as Scotland were in the early 1300s.
"You look back at any successful team in history, you will find a team that has at least one player that drives the rest of the team forward," says Oz. "Someone who has experience and a strong character that everyone looks up to. Someone that has a passion for their club and their teammates." Indeed, when you look at captains like Carles Puyol and Paolo Maldini, two players that grew up with their clubs and epitomized their ideals, they both drew massive amounts of respect from those around them, and they could be counted on to drag their team to victory when the odds were against them. "They were fierce and fiery. You wouldn't want to get on their bad side," Oz smiled.
But, as Kerry informs us, there are other types of leaders besides the bellowing captain. "I certainly am not a very vocal leader. When I was in high school, one of my friends and I were co-captains for our team. He was definitely charismatic, take charge type. I was much more of the quiet, lead by example type. Players like Xavi and Lionel Messi fall into this category." There are also those that may not wear the captain's armband but are just as much of a leader as the one with the title. People that have an equal drive to win. Manchester United and Real Madrid teams of the past were full of these players and were highly successful because of it.
Clubs without any true leader on the field often lack any real fire or passion. They lack accountability for themselves. They lack responsibility for their mistakes. Clubs without any true leader should probably watch Braveheart and develop their own William Wallace.
Related Episodes