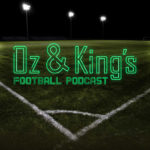 Welcome to the 14th episode of the Ozkoç and King Soccer Podcast Show
Throughout the history of soccer, the word philosophy has been used to describe a manager implementing his style onto his team. Within recent years, "philosophy" seems to be the primary buzzword at every press conference. It's no surprise. With philosophy comes purpose. With philosophy comes identity. And identity should be a staple part of any team. A team that is so iconic, full of culture, and with one of the most profound identities in world soccer, is Barcelona.
"Every game, you know Barcelona are going to be technically strong," comments Kerry. "They will have lots of possession, string together a lot of passes, press high up the field, and really utilize the massive amounts of space that Camp Nou affords them. They're a club that epitomizes Catalan pride and nationalism."
"Were Barcelona to lose some of these identity traits, then it would be tough to consider them the same team," Oz notes. "Were they to lose their winning mentality, it would be hard to see them as the same club. And it would be tough for them to regain that mentality." Both Oz and Kerry grew up watching some iconic clubs, but in recent seasons some of those clubs have fallen on hard times, and Kerry laments the change.
"It's strange seeing teams like Manchester United and AC Milan teams that were at the top of the world a decade ago struggle to get into the Champion's League. But there are signs that these clubs, along with the likes of Liverpool and Inter Milan, are slowly regaining that status that they've had in the past. It has been proven to be possible."
Teams go through changes over the years. Soccer is a very cyclical sport. That is why it is imperative that, during times of change, clubs retain their sense of identity. Because of a team without an identity, without security, is a team destined for hardship.
Related Episodes