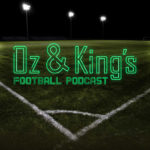 Follow us on Twitter @ozkocandking  Facebook @ozkocandking Instagram @ozkocandking
Welcome to the 2nd episode of the Ozkoç and King Soccer Podcast Show
"Remember the name."
It's a phrase typically used in the sporting world when a previously unknown athlete announces their arrival on a grand stage. The excitement and hype that follows can be unmatchable. Unfortunately, some young players can crumble under the pressure. How does this happen? How can someone that looked so talented and promising look so out of place among the elite?
"There are a number of factors during development that can decide a players future," says Kerry. "When some of these factors go against you, you'll only catch a glimpse of the top."
There are many players that lost there place as some of the best early on in their careers, but what about those that didn't? That minority of players that has a special type of quality that everyone can see. The type of player that goes on to consistently deliver as the years pass. Oz sheds a little bit of light on the players that break records and become legends of the game.
"There's a maturity and confidence to these players that can't be ignored by the manager, fans, or media. Their place in the team is set, and they go down in history as one of the team's best."
The next time a young kid bursts on to the scene and he or she points to the name on the back of their jersey after scoring a goal, will you remember their name for years to come? Or will they be forgotten?
Related Episodes