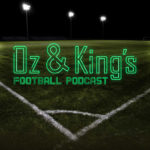 Welcome to the 16th episode of the Ozkoç and King Soccer Podcast Show
Desire can be a difficult thing to measure. It's difficult to get inside someone's head. When someone says that they have the desire to win, there's no real reason not to believe them.
"When you look at a game from any league, you'll see twenty-two professional players, and I think it's safe to say that they each want to win just as much as the next guy. That's part of being a professional," Kerry says. "Of course, you hear words like 'desire' and 'the want to win' thrown out all of the time. But in my opinion, if one player has less of a desire to win than another, then they probably won't make it as a professional." Kerry would go on to say, "It's fine if someone doesn't have the same passion for the game as someone else, not everyone does. But if nothing else, you have to be willing to give your all for your teammates. If you aren't willing, then you should make way for someone who is."
Oz and Kerry coach at the youth level together and concepts like 'the will to win' are what they try to instill in their teams, but teaching that is not as easy as teaching the right way kick a ball or how to defend. Oz explains why.
"I think desire is something that is hard to teach because it is something that can't really be taught. Its a mentality that you are born with, but not everyone has the same desire or will to win as others when it comes to certain things." Indeed, everybody is different, and even if two people have the exact same passion for soccer, they may not portray it in the same manner. "I have confidence that the girls we coach are willing to do what it takes to win, and that means giving it their all. But, I recognize that some of them express themselves in different ways, and as long as they continue to give their best, I encourage that."
Sometimes that desire, that passion is born from a particular moment. It could be watching your first game. It could be walking onto the field with the players. It could be scoring your first goal. Whatever it is, it gives you a taste of what could be. You get a feeling for what the game brings to so many people. After that experience, maybe the next time you dream it'll be of you scoring a great goal in a big game.
What's great about a soccer game is that it is a place where one can express themselves and let loose. If you lose a game, then maybe you should just applaud the other team for playing better. But, your desire to win should be something that never comes into question.
Related Episodes